Obesity Linked to Cancer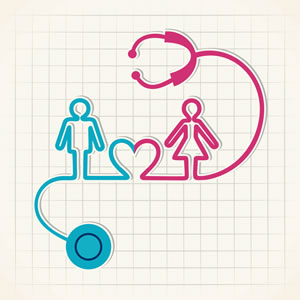 There are many medical issues that are linked to being overweight. It stresses out your cardio-vascular system and plays hell with you joints. Eventually if weight gains continue your muscular system just can't manage to move that mass around. I'm not saying this stuff to be mean, but possibly to save your life.
Something that doesn't get talked about much is the link to cancer in both men and women. The different sexes are more likely to get certain cancers, ie breast cancer for women and prostate cancer for men, but that doesn't mean that men can't get breast cancer. It just means it's less likely. But many other cancers are linked to obesity.
Being obese and having a sedentary lifestyle may be linked to over 25% of cancers of the colon, breast, endometrial, esophagus and kidneys. If you can avoid weight gain and reduce your body mass you also can reduce the risk of cancer. That's the good news. The bad news is that thousands of new cases of cancer every year are directly linked to obesity.
Getting on to specifics on breast cancer, women who are pre-menopausal and obese have a lower risk of breast cancer than women of a "normal" weight. Once you are into menopause however, the likelihood increases to 1.5 the rate of women who are of a "healthy weight." The risks seem to be tied to the levels of estrogen that are 'circulating' at any given time. More estrogen (more common in heavier post-menopausal women) means more risk of breast cancer.
Next up: cancer of the uterus. Obese women have a two to four times greater chance than normal women.
The colon cancer factor: Abdominal fat (the traditional "beer belly") seems to indicate a higher risk factor with this in men. The numbers in the report from the National Cancer Institute weren't very specific, just saying that it occurs "more frequently in those who are obese." The risk of kidney cancer in men seems to also have a positive correlation to obesity, but in women the linkage is marked. They have an occurrence rate two to four times higher than women of a normal weight.
It seems to me that any reasonable person would look at the cancer statistics (and I encourage you to do more research on this) and those would set you on the course to lose weight. Coupled with the cardiovascular benefits, and the mobility factor it is pretty much a no-brainer. I realize people think that weight loss is always a roller coaster ride, and if you approach it wrong, it will be.
Weight loss has to be a conscious choice and a lifetime commitment to physical activity and healthy food choices. Neither has to be extreme to give you consistent results. 30 minutes per day of walking or some activity that raises your heart rate can work wonders. And if you decide to eat as little processed foods as possible (meaning sticking to fruits, vegetables, meats, seafood and avoiding pre-packaged "ready to heat and eat" choices) you can make a difference without too much sacrifice.